what could you buy with $400 billion? crypto enthusiasts could buy 85 million Bitcoins for starters. football lovers could potentially acquire 100 Manchester City teams, with a $4 billion valuation for each. coffee aficionados could buy 133 billion cups of coffee at their favourite Starbucks, sufficient to feed the entire world's population for half a month. with that kind of money, the world would be your oyster.
but hold on. are you wondering where did this number suddenly come from? we were just getting to that bit. India has exported $400 billion worth of merchandise as of March 23. exports are at an all-time high, with still a few more days for the financial year to end. 
from engineering goods, cotton, coffee, gems & jewellery, and petroleum products, there was a double-digit growth across all categories. with $1 billion worth of exports being done every day, the full-year exports could touch $410 billion.  
commerce minister Piyush Goyal gave credit to the 'Make in India' program that is helping India manufacture for domestic and international use.
dipping into the numbers
so, how did we achieve the mammoth figures? let's break down the numbers one by one. 
$30 billion: to hit the $400 billion target, India had to consistently hit the $30 billion target every month. the numbers stayed above this figure for 11 consecutive months. 
$39.3 billion: while export targets were set and followed, December 2021 was an outlier. during the 31-day period, India hit its highest-ever monthly merchandise exports of $39.3 billion.
>100%: commodities such as petroleum, cereals, cotton, handloom, mica, coal, and plastic exceeded their export target for the financial year.  
151%: the growth in the export of petroleum products in the April 2021 to February 2022 period. the value of such exports zoomed to $53.8 billion. 
$100 billion: the amount of engineering product exports including iron and steel. pent-up demand from markets such as the US helped grow this segment. 
>$40 billion:  the quantum of agricultural exports in the last 12 months. this includes farm products such as grains, cereals, and other agricultural commodities.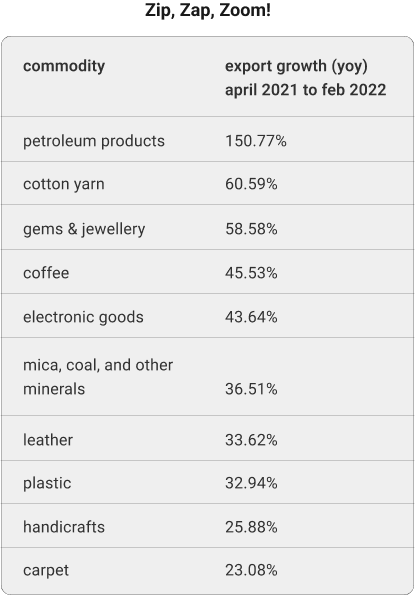 Source: Commerce Ministry
why does it matter?
exports are necessary for economic development. whenever a company or a business produces goods for international consumption, jobs get added. because to produce an additional number of products, more people are needed per factory. 
international trade happens in US dollars, so exports offer a good opportunity to earn foreign exchange. through this, our forex reserves are strengthened. in addition, the gross domestic product of the country gets bigger. 
free-trade agreements (FTA) between countries also help boost imports and export. India has a series of such pacts with the United States, Colombia, Argentina, Malaysia, Singapore, Sri Lanka, Japan, and Nepal among many others. it has recently signed a deal with the United Arab Emirates for trade. 
the more FTAs, the quicker are the exports. the quicker the exports, the stronger our economy is. for instance, the United States and China are the world's top two biggest economies primarily because of their export prowess.
what's the next big target?
India is negotiating FTAs with many other countries including Australia, Canada, Israel, the UK, and the Gulf Cooperation Council. the India-UAE agreement alone will help trade between the two countries touch $100 billion from the current $65 billion. 
getting closer to the big league of international trade is the biggest ambition. to enter this clique sooner than later, commerce minister Piyush Goyal gave a $1.3 trillion international trade volume target for FY22. this will include $650 billion of exports of goods and services. 
the game-changer in this journey will be production incentives for manufacturers. benefits such as tax holidays, lower import duties for raw materials, and cheaper land are proposed for attracting manufacturing giants. we as customers benefit too because incentives lower the overall cost of production. 
for now, the $400 billion magic number will help India enter the 'top 15 global merchandise exporters in the world' club. a mix of government policies and self initiatives by businesses will be needed to keep the momentum going. entering untapped business segments such as chip-making (technically called semiconductors) is the key to export trade domination. 
setting aside apprehensions about post-covid economic recovery, the export figures help build a 'feel-good' factor among entrepreneurs. the real potential is waiting to be unleashed.